Fuerza centrífuga /


Centrifugal force




Performancia y escritura
acciones designadas ocurriendo e interactuando.

Performance and writing
designated actions occurring and interacting.

Enlace a texto:
Link to text:

[solo español / only spanish]


Fuerza centrífuga
2017
Participantes:

Sebastian Sandoval
Ana Nuñez
George Lozano
Santiago Velásquez
Santiago Cifuentes
Andrés Suarez

Este proyecto fue realizado como tésis de Maestría en el programa de Artes Plásticas de la Universidad Jorge Tadeo Lozano en Bogotá. Fuerza centrífuga es un performance de una hora de duración en donde dos personas interactuan por medio de la lectura en voz alta y la acción física de correr. La lectura es un texto poético de mi autoría, que indaga en reflexiones entorno a los proceso artístico como fuerzas cíclicas concatenadas. Durante la lectura, una segunda persona corre alrededor del espacio, en círculos, durante el tiempo que dura la lectura del texto, complementando con su acción la experiencia de agotamiento que produce la concreción de una idea.

Más allá de pretender finalizar un proceso de creación académica con una conclusión concreta he decidido proponer este espacio —entendido en un principio como término— desde la incertidumbre abordada como problema artístico. Plantear la posibilidad de generar preguntas con la premisa de preservar las potencias de movilidad que se presentan en los procesos, me ha dejado claro que mi interés está puesto en los puntos medios irresolutos y no en las extremidades concluyentes.

Participants:

Sebastian Sandoval
Ana Nuñez
George Lozano
Santiago Velásquez
Santiago Cifuentes
Andrés Suarez

This project was carried out as a master's thesis in the Master's program in Plastic Arts at the Jorge Tadeo Lozano University in Bogota. Centrifugal Force is a one-hour performance in which two people interact by reading aloud and running. The reading is a poetic text written by me, which refers to my conception of artistic processes as cyclic forces that trigger one another. During the reading, a second person runs around the space, in circles during the time it takes to read the text, complementing with his action an experience of exhaustion that produces the concretion of an idea.

Beyond the attempt to finalize a process of academic creation with a concrete conclusion I have decided to propose this open space
– understood at first as term – to address the uncertainty as an artistic problem. Proposing the possibility to raise questions with the promise to preserve the potential of mobility which present themselves in the processes, made it clear, that my interest is in the unsolved midway points and not in the concluding ends.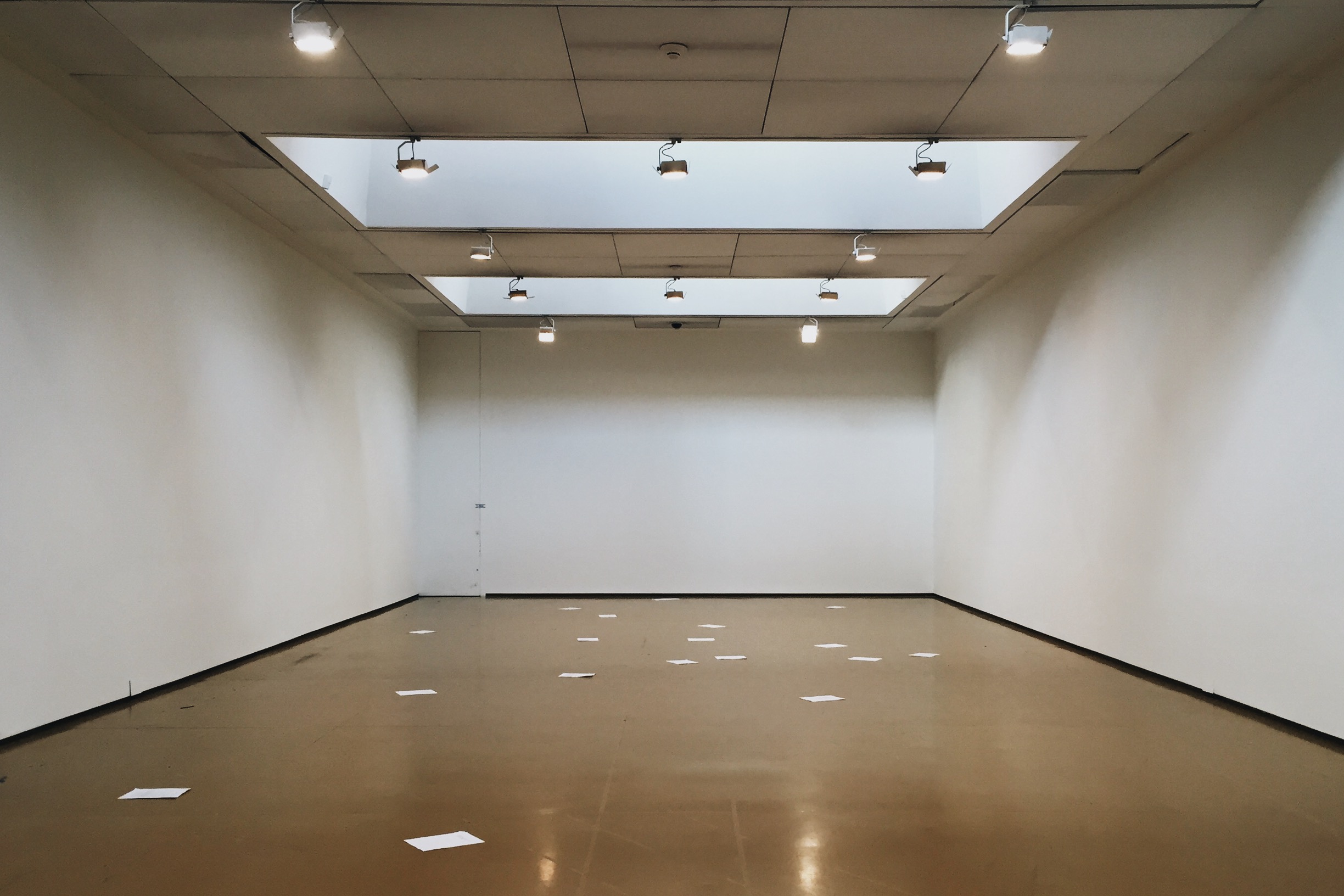 Registros realizados durante la presentación de la obra en el museo de Artes Visuales de la Universidad Jorge Tadeo Lozano
Recordings made during the presentation of the work at the Visual Arts Museum Jorge Tadeo Lozano University.