Estadio dinámico observable

Un estadio dinámico observable tiene como característica principal el acontecimiento de un evento regulado. Este evento regulado esta mediado por la yuxtaposición alternada de elementos ajenos a una situación particular, siendo entonces el estadio un simulacro de superficie en donde se emite una ficción o escena. En este caso, el evento regulado es el estado especulativo de la observación a distancia. La captura, el registro, la vigilancia y algunos otros problemas semánticos cercanos, son sugeridos como acontecimiento en las conjeturas que produce la sintaxis del observador observando lo indeterminado, la imagen de un evento capturado y el sonido producto de recopilaciones de archivos audibles. La intención de proponer o sugerir esta ficción a partir de sucesos reales nace de la espera dilatada de un hecho que jamás ocurre. La imagen de vigilancia se comporta de forma contradictoria. Se plantea como estado de defensa a un episodio concreto, pero al mismo tiempo lo incita (en potencia) estimulando la expectativa del observador. Ahí, en el estiramiento de ese intervalo entre la disposición a… y la no llegada de… es que se encuentra la ficción de un presente vacío.

(El vacío se encuentra lleno. De nada, pero lleno).

Al señalar el presente como un lugar extenso sin dirección a un suceder determinado, la aparición de la experiencia del ahora se convierte en un tiempo loop que no desencadena sino en si mismo, siendo causa y efecto de su propia ficción. La imagen del mar desarticulada y puesta de nuevo a fracciones, piensa la idea de aquel lugar de ríos sin dirección que rompen las costas de nuestro suelo trayendo consigo la experiencia de la inmensidad. Pasada la palabra al estado expectante, solo tiene para decir lo que sucede, una contundencia del pasar. Un presente que fue, es y será. Al discurso esperado lo deviene el mar.

Más que suficiente. Basta. Vasto.

Capturar el mar no es más que una acción fracasada, pero aún así necesaria para quizá acariciar la aparición del sentido de las cosas en el oleaje virtual de un estadio dinámico observable.

Dynamic observable state

The main characteristic of a dynamic observable space is the occurrence of a regulated event. This regulated event is mediated by the alternating juxtaposition of foreign elements in a specific situation, thereby being a state of superficial simulation, emitting a fiction or scene. In this case, the regulated event is a speculative state of observation from the distance.
The capture, the archive, the surveillance, and some other related semantic problems, are assumed as an event, produced by the syntax of the surveyor observing the indefinite, the picture of the captured event and the sound as a product of the compilation of audio archives. The intention is to propose or suggest that this fiction, based on real occurrences, departs from the dilated expectation of something that never happens. The surveillance image is contradictory. It presents itself as a state of defence of a concrete episode, but at the same time it initiates this (potentially), stimulating the expectation of the observer. There, in this elongation of this interval between the willingness to…and the non-appearance of…is where the fiction of a present emptiness lies.

(The void is full. From nothing, but full).

By demonstrating the present as an extensive space without direction towards a determined happening, the appearance of the expectation of the present converts itself in a loop, which can only repeat itself, being the cause and the effect of its own fiction. The detached image of the ocean, again fractionized, presents the idea of rivers without direction which hit the coast, carrying with them the experience of immensity. When the word passed on to the state of expectation, it can only comment on what is happening, precision or force of the happening. A present which was, is, and will be. Discourse waiting to possibly become the ocean.

More than sufficient: Enough. Immense.

Capturing the ocean is no more than a failed action, but still necessary to maybe get a feeling of the things in the virtual waves of a dynamic observable state.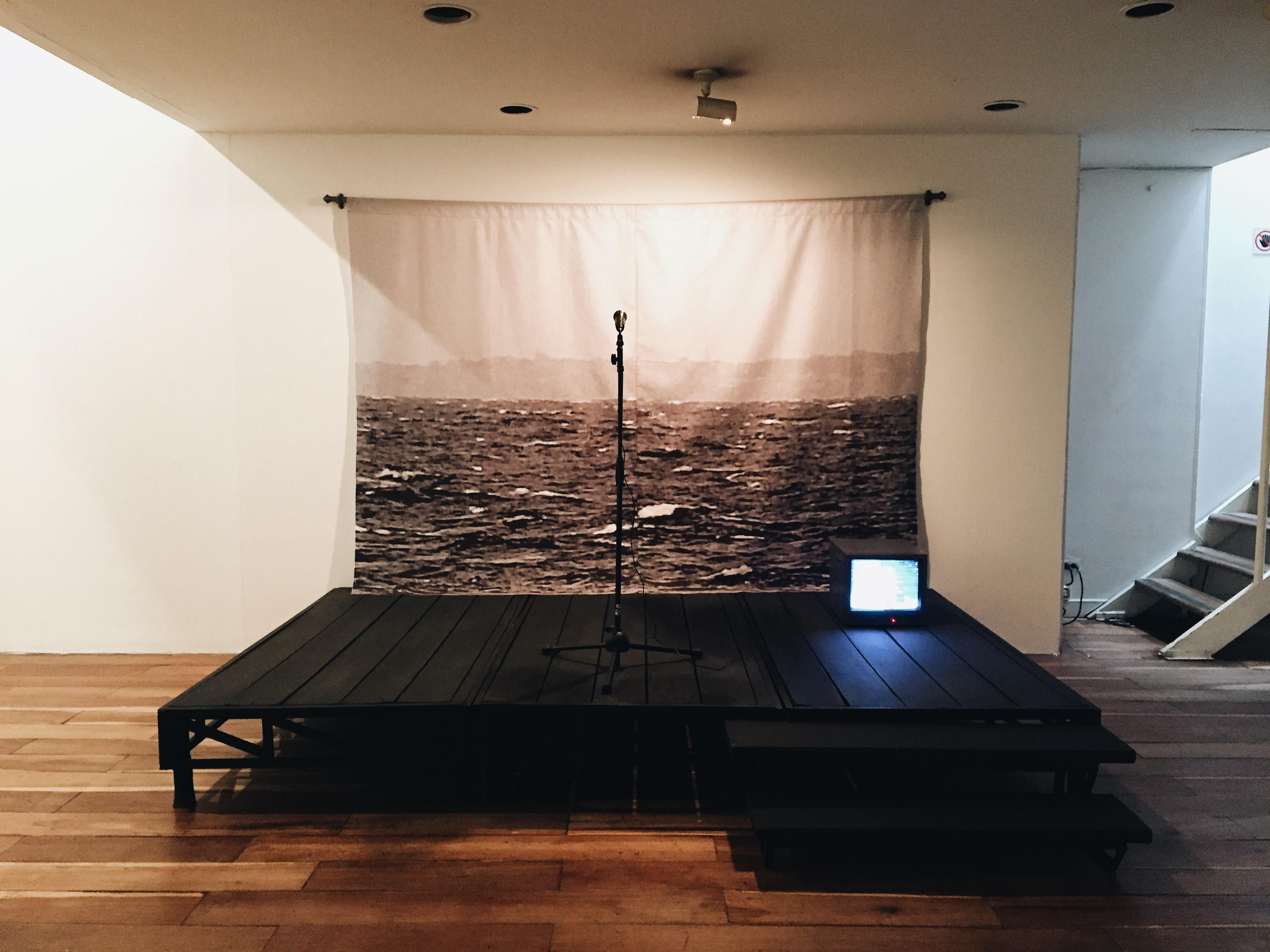 2017
Finalista Premio Arte Joven Fundación Gilberto Alzate Avendaño
(Premio para artistas colombianos emergentes o residentes en Colombia hasta los 35 años).
Finalist Premio Arte Joven Fundación Gilberto Alzate Avendaño (Award for young and aspiring Colombian artists and artists resident in Colombia aged under 35).